CRYSTAL RIVER SHARK FISHING $600 A Shark trip includes bait & tackle and all licenses to fish up to (4 anglers). The Shark fishing here in crystal river is amazing we like to fish for BIG sharks. How big you ask? how dose a 12 foot Hammer Head shark sound or a 500 lbs Tiger shark! even a 250 lb Bull Shark.  That's whats on the menu when you book a Crystal River shark fishing charter. The Captain has years of experience fishing big water fish. You don't always get to bring the fish home due to size and florida's ever growing fishing regulations.  And really what would you do with 800 lbs of fish?  (Your allowed 2 sharks per boat per day). We usher everyone catch's fish and has a good time. Be sure to bring video and camera gear catching this on vido is a once in a lifetime experience for most people.  The shark in this photo is a 200 lbs hammer head shark landed on 300lb test fluorocarbon leader and a convictional reel.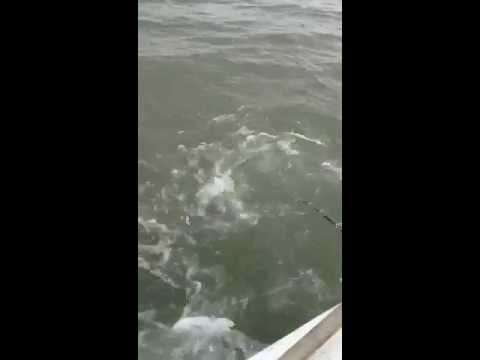 Shark Steaks
Shark steaks are awesome so when we can, we like to bring home a nice 4 or 5 footer for the barbecue. This is a 30 to 60 lb fish nice firm white meat great for the grill. We like to cut the fish into 2×4 inch strips like grouper fingers. Then poke a hole into the meat and push a pice of onion and pepper onto the fish. Oil lightly and season to task salt, pepper and favorite fish seasoning.
Place on grill medium heat turn on all four sides until tender. Fish will cut with a fork when all the way cooked. Squeeze some fresh orange juice over the fish while cooking this keeps the fish moist while cooking. the fish will turn white in color and have nice grill marks when finished.